BOOK NOW!
Next Export to Europe!
The next Export Quarantine from New Zealand to Europe is planned to commence in April 2020 with an intended export in May 2020.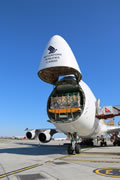 If you wish to join our consolidated shipment let us know by mid March 2020 and we will add you to our list.
Please keep a few things in mind to assist your planning. Any females that are pregnant must be no more than 250 days gestation on date of departure. Any cria to travel must be more than 1 month of age and greater than 12 kilograms.
Please could you contact us on either s.ridout@bigpond.com or mobile +61 414 719 566 to reserve your space.
*If you can't make this shipment - the following shipment will be scheduled for October 2020*
Welcome to Wildflower Alpacas Quarantine and Export Services
Wildflower Alpacas is owned and operated by Sue and Steve Ridout, both of whom have an extensive knowledge of the Alpaca Industry. We have over 20 years' experience breeding Huacaya Alpacas, with great success in both Victoria and Western Australia.
After many years of breeding and showing alpacas, we have now moved our focus to our Quarantine and Export services.
We are Licensed Australian Exporters that specialise in moving Alpaca and Llama, using our extensive knowledge of this breed of livestock along with the complete understanding of the requirements of breeders who want to know that their new alpacas (and often their hopes and dreams) will be well looked after until they arrive at their final destination. We have been licensed since 2019 but have been moving alpacas around the world for 20 years!
Over the years we have exported alpaca to South Africa, New Zealand, USA, China and South Korea. Just recently we have sent alpaca to farm zoos in Sabah, Taiwan and Hong Kong.
For new importers and those new to alpacas, we offer pre-purchase assistance, assist with import permits, training, farm set up and any ongoing support that may be required once the alpacas have arrived at their final destination.

Our Team: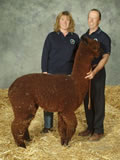 Can you believe we actually met through breeding alpacas!! Steve had Wildflower Estate Alpacas in Western Australia and Sue had her herd Amberley Park Alpacas in Western Victoria. We consolidated our herds – both alpaca and children and became Wildflower alpacas!
Steve has been breeding alpaca since 1997 and active in both states through Show committees in WA, and as past President of the Western Region of Vic, including board member of the AA Co-operative. Steve has worked with Airlines for over 30 years and is a qualified 747 loadmaster. Steve travels with all the long haul flights and full charter flights.
Sue has been breeding alpaca since 2001 purely for the love of the animal! Her attention to detail is paramount in the documentation process of the import and export procedures and protocols.

Airlines:
We work directly with the airlines to book the best outcome for our alpacas. We use both single tier and double tier crates, loaded onto main deck of freighter aircraft or lower deck if we use a passenger service.

Crates:
Our crates are newly built meeting IATA import standards. The crate is newly manufactured from plantation pine which is kiln dried to meet ISPM /AWCPS regulations.We use single tier and double tier crates. Our crates (designed by Steve) have water troughs in each tier that have a funnel system so he can refill the containers during transit. The crates have emergency side access doors in case there is a need to access the alpacas during flight. The crates are lined with a skymat to absorb any animal waste, to avoid odour and for hygiene and comfort. Our double tier crates can be separated for ease of loading and unloading. They can be moved easily using a forklift.
Our stocking density is carefully calculated using IATA guidelines to ensure the comfort and safety of the alpacas in transit – both by air and by road.

Europe:

We run a regular consolidate shipment of alpaca from New Zealand through to UK and Mainland Europe. Working closely with a tight knit team of NZ Exporters, we put as many importers together as we can for each shipment to obtain the most cost effective transport arrangement we can possibly achieve. If you purchase only 1 alpaca, you can join in our consolidated group to get your alpaca safely to you – you do not need large numbers to import an alpaca! Our consolidated shipments are run twice yearly in spring and autumn.

New Zealand Import Health Standards - revoked:
The Ministry for Primary Industry NZ will be have revoked their Importing Health Standards (IHS) for Alpaca, this will affect all Alpaca Imports into New Zealand.
The issue relates to the required Q Fever testing methods and the subsequent irregular results being returned. The decision is the result of the only 2 available tests being reviewed and assessed to be of unknown sensitivity in alpacas (the ELISA) and unacceptably low sensitivity (the CFT). An alternative, acceptable test has not yet been found.
Department of Agriculture and Water Resources (DAWR) and DPI laboratories have been working towards being able to provide a testing kit using the ELISA method that can be officially verified for use in alpaca. Once this testing kit has been successfully verified the results will then be discussed with MPI for a hopeful solution.
We are hoping for some news regarding the testing outcome in November 2019. We will advise of the outcome as soon as we hear!

China: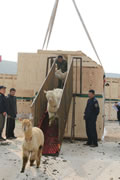 The Chinese Protocol is currently now well established. Wildflower Exports flew 1541 live alpaca in 3 shipments to China in late 2014 & 2015. At this stage we are looking for interested breeders that are willing to supply China in the near future.
You can register your interest via email to s.ridout@bigpond.com

Korea:
The import requirements for South Korea are firmly in place with several shipments having travelled to Incheon from Sydney.
Alpacas to Korea have a short isolation but require a 15 day post arrival isolation in Korea. This needs to be arranged by importer ahead of the shipments departing Australia.
For information about the requirements for Korea or to book a shipment please contact Steve on 07 4098 8451 or 0414 719 566.