Next Exports to Europe from New Zealand
Next Scheduled : The next Export Quarantine from New Zealand to Europe will commence on the 24th of October with an intended export date of the 5th of December
Next Quarantine from Australia to New Zealand
Next scheduled : TBA
Export to China
Please register your interest to supply alpacas for the Chinese breeding market at s.ridout@bigpond.com
Export of Alpacas
Steve has been exporting and importing many exotic species worldwide for the past 12 years, through extensive background expertise in the Freight Forwarding Industry. He is accredited by IATA – the world governing body for Airlines – to handle endangered species via Airfreight. Those who love going to the zoo would have probably gone past many that he has brought in, or seen those that have moved to other zoos around the globe.
It's with this expertise and knowledge of the Alpaca Industry, that Wildflower Alpacas has, over the past few years, assisted many studs across Australia with the safe transportation of Alpaca both Nationally and Internationally. It is not as expensive as you may think so please don't hesitate to contact us for details of the isolation procedures, transport routes and costs involved.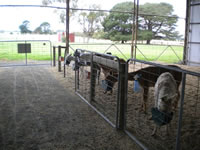 Recently, the Australian Government passed legislation to tighten the regulations in regard to the export of livestock, and all exporters now have to be licensed, which involves the ability to conform with business standards and regulations laid down by the Department of Agriculture. Wildflower Alpacas have met the requirements, and created our Governance and Operations manual. Our export licence has been granted - L515. Wildflower Alpacas now operates an approved premises for all your export and quarantine requirements.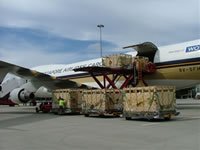 Our new facilities are fully operational and cater for all Pre Export Quarantine (PEQ) services as well as competitive freight rates and veterinarian charges. We combine the collection, quarantine, crate building and export procedures to take the hassle and worry from export.
Rates and charges are priced accordingly depending on the number of alpacas in each shipment. Call Steve today to ensure you are obtaining the best rate possible.
http://www.biosecurity.govt.nz/imports/animals/standards/lamaniic.aus.htm