Alpaca Information
Wildflower Alpacas Pty Ltd is owned and operated by Sue and Steve Ridout both of whom have an extensive knowledge of the Alpaca Industry. Collectively we have over 15 years of experience breeding Huacaya Alpacas with great success in both Victoria and Western Australia.
On our Farms we take pride in maintaining the highest standards of cleanliness in our facilities and we keep organised, up to date health and breeding records. We are actively participating in the JD Map (Johne's Disease) program with MN1, MN2 and MN3 facilities available.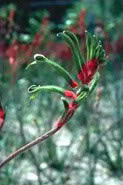 For those who are considering investing in Alpacas getting to know the breeder and their animals is a must. We welcome you to visit our farm online and in person, become acquainted with our friendly Cria and even take an Alpaca for a walk.
Steve has been active in both states through Show committees in WA and as past President of the Western Region of Vic including board member of the AA Co-operative.
Please take your time wandering through our site and feel free to contact us at anytime for information on any of the areas that are of interest to you.
For further information about alpacas, please visit the Australian Alpaca Association web site.